Rent Collection
Let us manage your Chicago Rental Property
Rents are due on the first day of the month and late if not received in our office by the end of the day on the 5th of the month. On the 6th of the month, or the next business day, GCR&D charges the late fee as permitted by the lease agreement.
At GCR&D, we do not tolerate the delinquent payment of rents. We are careful to explain this policy to new residents in order to avoid any misunderstandings that might arise later. Our rent collections and delinquencies policies are as follows:
We will make every effort to collect rents timely when due (1st of the month). We will "Hand Deliver" a 5-day notice (Illinois' legal prerequisite to an eviction). In certain circumstances a process server will be hired, at an additional expense to the owner, to properly serve the tenant.
If no response we will turn delinquent residents over for an eviction to be filed with your approval, as owners are responsible for fees.
GCR&D recognizes that many things can happen where it concerns rent; rent can really be lost "in the mail", employers can delay the tenant's paycheck, there are real tenant emergencies, and more. Therefore, we make a serious effort to determine why the tenant is having a problem and will work with them to obtain payment as soon as possible.
What Happens if my Tenant Doesn't Pay Rent?
If you're not 100% sure that your current Chicago property management property manager is doing a good job, then they're probably not. Contact us for a free quote and start getting the returns you deserve!

Schedule Your Free Consultation
HOW MUCH RENT can you get
for your investment?
Tell us where your property is. Start by simply entering your Chicago area property address.
Expert evaluations. The actual rental value may increase or decrease based on property location, condition and amenities. To receive the most accurate rental analysis contact us after you receive your rental report and speak with one of our Chicago property management experts.
Receive your FREE report in a matter of minutes. You'll receive a personalized property report analyzing your home with a suggested rent range and market data.
Get quality tenants, fast. Explore our packages for rental leasing and Chicago property management services.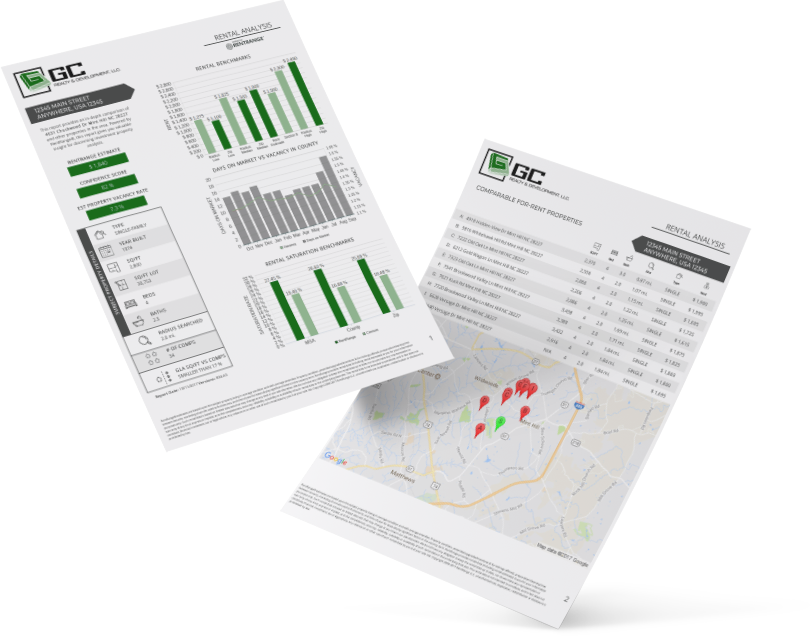 WHAT SETS US APART
FROM OTHER Chicago PROPERTY MANAGERS

Chicago's
Responsive
Property
Manager™
Answering resident calls and responding to owner emails timely is what is going to set this team apart from all of our competitors - it's our mission to be the most responsive property management company.

No Fees
During
Vacancy
Many property management companies will charge you a management fee during vacancy. We don't believe that is fair. We think we should only get paid if we are delivering a valuable service.

The Best
Price For
Your Rental
We research the current rental market to determine the highest rental price the market will bear. Due to our aggressive marketing techniques and accurate pricing, most properties are leased out within 21 days or less.

Stress Free
In-house
Maintenance
The GCR&D operation includes a Maintenance Department that has proven to save owners hundreds of dollars per year since most jobs can be completed in house.
GCR&D Management fees may vary and are quoted on a case by case basis but listed below are the current rate ranges for residential management.
Residential 7-8% of the gross rent
Residential 8-10% of the gross rent (Areas of Chicago Only)
GCR&D welcomes the opportunity to speak with you about your Property management needs. Please feel free to contact our office for additional information at any time.
Explore Our Pricing
FREQUENTLY ASKED QUESTIONS
Q
How long has your Chicago Property Management company been in business?
A
GCR&D has been in business since 2003, and consists of 3 partners. We incorporated our firm in 2003 as an S-Corp and restructured it in 2006 as an LLC. We started our Property Management division in 2005.
Q
What types of property and types of investors does GCR&D manage for in the Chicago area?
Q
How much do property management companies charge in Chicago?
A
As advertised on this website, our monthly management percentage is between 7-10% with a minimum of $100.00 per unit, per month. Multi-unit properties with rents under $1,250.00 will be treated on a case by case scenario.
Speak To A GCR&D Team Member!