Where To Invest In Real Estate In The Chicago Market: The Chicago Suburbs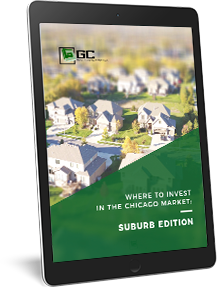 Curious about the best areas to invest in rental property within the Chicagoland area?
We highlight what we consider to be the most attractive areas in Chicagoland on our local podcast, Straight Up Chicago Investor. However, until everyone listens to Chicago's #1 real estate investment podcast (ahem), I find myself answering this question quite often.
Dive into our comprehensive guide and unlock valuable insights to make informed investment decisions!
🔑 Why You Need This eBook:
✔️ Expert Insights: Benefit from our team's extensive experience in the Chicago real estate market. Get the inside scoop on prime investment opportunities.
✔️ Location, Location, Location: Learn about the most attractive suburbs in Chicagoland for rental property investment. Maximize your ROI with strategic location choices.
✔️ Simplify Your Research: Skip the hours of research and speculation. Get concise, reliable information to guide your investment journey.
✔️ Unlock Success: Elevate your real estate investment game with knowledge that's worth its weight in gold.
Ready to uncover the hidden gems of the Chicago suburbs real estate market? 📚🌆 Download our eBook now and gain access to insights that will reshape your investment strategy!
Disclaimer: In this Ebook I summarized my opinion on where to find the best opportunities in different areas based on my experience. I've based my opinions as a real estate investor myself and from the experience of day-to-day management of 1,200 residential units in the Chicagoland market. I dove deep into the suburbs and not the city because that will be in the next release.