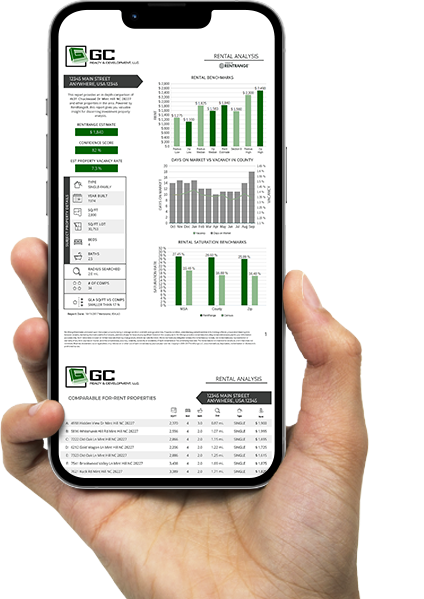 Chicago Property Management
Find Out How Much You Can Charge For Your Rental
Tenant Placement Only
Chicago's Responsive Property Manager™
Contact Us
What is the Tenant Placement Process with GC?
If you prefer to handle all the daily operations of property management, but would like a professional company to manage the leasing of your property, GC Realty & Development LLC is for you! As your leasing agent, we will represent you throughout the entire rental process. This includes handling marketing, advertising, showings, tenant screenings, and preparation of the lease and other necessary documents related to the move-in. This service allows you to feel confident that you have a strong foundation for successful tenancy.
What Will We Do For You?

Evaluate Property to Determine Accurate Market Rate Rent
Perform detailed in-person tour and photo documentation of the interior and exterior.
Offer recommendations for repairs and cosmetic improvements that maximize monthly rent while providing a good ROI.
Conduct a market analysis to determine asking rent. Our rental analysis will include information about similar available units (e.g., 1 bedroom/1 bathroom units) in the same neighborhood as the subject property. Comparable properties might differ on exact amenities offered but the differences will be noted and reflected in asking rent recommendations.
Discuss/explain the pros and cons of different policies such as accepting pets, roommate replacement, etc.

Market the Property for Rent
Create property specific ads tailored for online real estate platforms (Zillow.com, Trulia.com, Hotpads.com, etc.) since 99.9% of all prospective tenants find information about units for lease via online real estate platforms.
Field calls from prospective tenants, answer questions, set up showings. We begin the process of assessing prospective tenants as good fits for the unit/landlord from the minute they call to inquire about the unit/showings. We also keenly observe prospective tenants during showings and all contact purposes about the unit.
Schedule prospective tenants for showings throughout the week and weekend.
Provide prospective tenants with rental applications that are legally compliant with fair housing laws.

Tenant Screening and Selection
Perform a background check to verify identity, income, credit history, and rental history.
Contact all professional references as well as past landlords to verify employment and past rental history (Did they pay rent on time? Were there any security deposit deductions? Would they rent to the tenant again? etc).
Present landlords with processed applications and related materials/information. Landlords will choose which tenant(s) to accept, however, we will provide our professional recommendation.
Inform tenants who were declined by the landlord.
Contact tenant(s) who the landlord accepted to coordinate next steps, confirm move in date, etc.

Lease Signing and Tenant Move-In
Draft lease, house rules, and all other related and required documents.
We walk through the lease and related documents in fine detail with the tenant. We explain the tenant's contractual obligations, what is expected of them during their tenancy and ensure that they are 100% clear on all lease and related document items.
Landlord signs after tenant executes lease document via electronic signature.
Ensure all agreements have been properly executed.
Provide the tenant with a move-in condition report which details the status of the rental unit's condition at time of move-in. The move-in inspection report is then used as a baseline when the tenant moves out so that the landlord can conduct an informed move-out inspection and determine security deposit return.
Collect initial payments (security deposit and monthly or pro-rated rent), and deliver to the landlord.
READ MORE +

Protect You From Bad Renters
If you stay up at night worrying about leasing to a bad renter, we get it. Picking the wrong person can have expensive and devastating long-term consequences. We keep bad renters from leasing your property with a thorough screening process that organically eliminates bad choices before they ever step foot in your property. Once we secure and lease your property to a tenant that will care for your property and protect your investment, we immediately hand service back to you!

Return Service to You Right Away
Once we have helped you locate, place, and lease a qualified tenant for your property, we return service to you. You can rest easy knowing that our lease is designed to protect your investment, profitability, and property. Our agreement respects Illinois state and county laws for landlord-tenant relationship and tenant rights.
Interested? Fill Out the Form Below To Get In Touch With Us
DOWNLOAD OUR INVESTOR EBOOKS