Marketing
Let us manage your Chicago Rental Property
Our goal is to market your property to all potential tenants currently in the market looking for a property to lease. Our objective is to obtain qualified applicants in the shortest amount of time and to receive the highest amount of rental income the market will bear. This means our marketing must be so good that it reaches and attracts anyone looking in that area and in that price range on a daily basis.
Setting the Rental Rate
If you're not 100% sure that your current Chicago property management property manager is doing a good job, then they're probably not. Contact us for a free quote and start getting the returns you deserve!

Schedule Your Free Consultation
OUR MARKETING STRATEGY INCLUDES:
QUALITY INTERIOR AND EXTERIOR PHOTOS

This is the most valuable step in our marketing process. Compare GCR&D's online photos to those of other management companies and you will see a difference. As a reference, view our current listings on our rental page

HERE.

THE LATEST TECHNOLOGY

Video Tours and 360 capability on most listings.

A PROPERTY DESCRIPTION THAT WORKS

Detailed property description or list displaying the most important features of the property. The days the long description paragraph is becoming less relevant and bullet point list is what the potential tenants will pay more attention to.

Marketing in the MLS and on over 100+ Real Estate websites

Marketing in the Multiple Listing Service (MLS) and on over 100+ Real Estate websites via our List Hub membership & broker reciprocity. Marketing on the MLS is also important to capture all the potential tenants working with another Realtor plus provides placement on Realtor.com. Realtor.com is in the top 5 of internet rental searches in the United States for potential tenants looking for your investment.

Additional online marketing

Additional online marketing from our professional property management software and showing platform.

Dedicated leasing agents

Dedicated leasing agents responding to leads on a daily basis, as they are received. When priced competitively, we receive 2-4 quality leads per day, per property.

Ability for tenants to schedule showing times 24/7 online

Ability for tenants to schedule showing times 24/7 online. We are also working with many owners that are wanting to do lockbox showings. This means a potential tenant can see a property within 10 minutes of locating it online if they wanted. (lockbox showings are not used in all areas or with occupied homes).

Ability for a potential tenant to speak with a live person from 8am to 8pm

Ability for a potential tenant to speak with a live person from 8am to 8pm to answer questions and assist with setting up a viewing.

Feedback on every showing

Feedback on every showing is collected from other Brokers and from actual potential applicants and is shared as a means of determining future marketing strategies.

Market activity, property condition, and pricing is reviewed twice per week

Market activity, property condition, and pricing is reviewed twice per week to ensure the market is being monitored and that no adjustments are needed in order for us to procure a quality tenant.

FOLLOW-UP MARKETING

Once a potential tenant signs up for a showing or to receive future availabilities they will then get a notice/alert for any property that is new to market, removed from market, or has a price correction. This allows our list of available properties to continue to be placed in front of the rental market on an ongoing basis.
HOW MUCH RENT can you get
for your investment?
Tell us where your property is. Start by simply entering your Chicago area property address.
Expert evaluations. The actual rental value may increase or decrease based on property location, condition and amenities. To receive the most accurate rental analysis contact us after you receive your rental report and speak with one of our Chicago property management experts.
Receive your FREE report in a matter of minutes. You'll receive a personalized property report analyzing your home with a suggested rent range and market data.
Get quality tenants, fast. Explore our packages for rental leasing and Chicago property management services.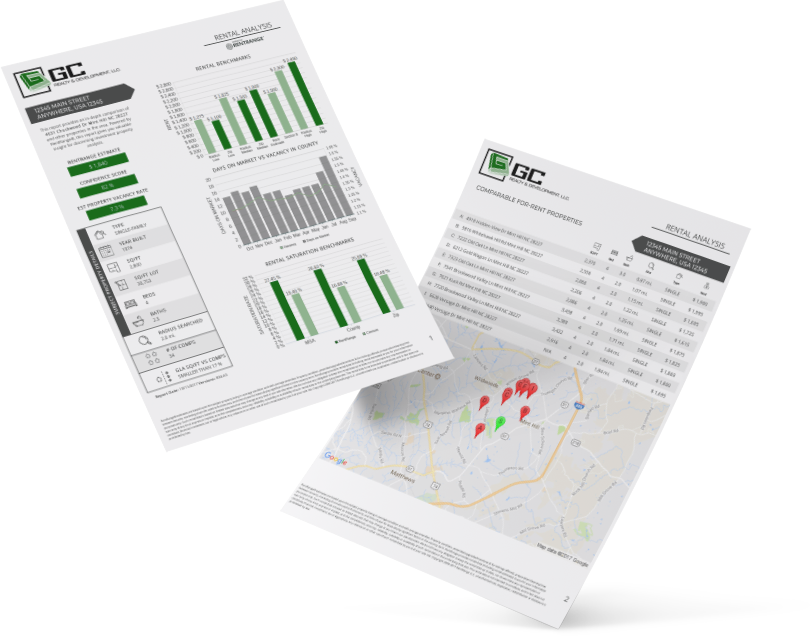 WHAT SETS US APART
FROM OTHER Chicago PROPERTY MANAGERS

Chicago's
Responsive
Property
Manager™
Answering resident calls and responding to owner emails timely is what is going to set this team apart from all of our competitors - it's our mission to be the most responsive property management company.

No Fees
During
Vacancy
Many property management companies will charge you a management fee during vacancy. We don't believe that is fair. We think we should only get paid if we are delivering a valuable service.

The Best
Price For
Your Rental
We research the current rental market to determine the highest rental price the market will bear. Due to our aggressive marketing techniques and accurate pricing, most properties are leased out within 21 days or less.

Stress Free
In-house
Maintenance
The GCR&D operation includes a Maintenance Department that has proven to save owners hundreds of dollars per year since most jobs can be completed in house.
GCR&D Management fees may vary and are quoted on a case by case basis but listed below are the current rate ranges for residential management.
Residential 7-8% of the gross rent
Residential 8-10% of the gross rent (Areas of Chicago Only)
GCR&D welcomes the opportunity to speak with you about your Property management needs. Please feel free to contact our office for additional information at any time.
Explore Our Pricing
FREQUENTLY ASKED QUESTIONS
Q
How long has your Chicago Property Management company been in business?
A
GCR&D has been in business since 2003, and consists of 3 partners. We incorporated our firm in 2003 as an S-Corp and restructured it in 2006 as an LLC. We started our Property Management division in 2005.
Q
What types of property and types of investors does GCR&D manage for in the Chicago area?
Q
How much do property management companies charge in Chicago?
A
As advertised on this website, our monthly management percentage is between 7-10% with a minimum of $100.00 per unit, per month. Multi-unit properties with rents under $1,250.00 will be treated on a case by case scenario.
Speak To A GCR&D Team Member!