Many people have questions about Section 8 and the ins and outs of the Housing Choice Voucher Program(HCV). The unfortunate part is many of the ins and outs differ slightly from state to state, county to county, and then even city to city. Now the differences between Section 8 housing programs are not large, but it is important you pair yourself up with a Property Manager or fellow investor to make sure you avoid the pitfalls of going with a Section 8 tenant for the first time.
I would like to share with you today an especially valuable resource that will help Landlords find the approximate amount the Housing Authority of Cook County(HACC) will pay based on what suburb within Cook County your property is located.
Chicago is in Cook County but this information does not account for the HVC program in Chicago proper. Chicago Section 8 is administered by the Chicago Housing Authority(CHA). An entirely different beast. At the bottom of this page you can find some links that will take you to information specifically about CHA.
Here is a link to the 2021 Payment Standards that has been in effect since June 2021 for rental amounts. The chart breaks down zip codes and bedroom sizes to give you the rent that HACC would pay the landlord if the tenant had no utility responsibility like gas or electric.
https://drive.google.com/file/d/1mbiTujQu_oabKmwkrFJpsFWv3Mitflp6/view?usp=sharing
As is the case in many leases, tenants will be responsible for their own utilities like gas, water, and electric. In this case and based on the above chart, the full amount you see on the chart may not represent the full rental amount.
As an adjustment for utilities, we will deduct $100 for electricity, $100 for gas, and $75 for water. These slight adjustments give us an idea of what we can expect on a monthly rental income basis.
Example:
If you have a 4 bedroom single family home in Homewood(60430), then you would find 60430 on the top half of the first page and see that the range is noted as "P". Looking towards the bottom of the first page you will find Column P and scroll down to the "4BR" row and that number is $2,190.00 which is if the landlord pays all utilities. If you expect the tenant to pay their own gas, electric, and water then you can take that expected rent down to $1915.00.
$2015.00 is the number you can expect to get from the HACC section 8 program as a landlord. Now that number is not exact and I would advise any landlord to look at this being a median number. In this case I may advise a landlord that if you are ok getting rent in the range of $1960-$2060 then we are good to accept a section 8 voucher tenant here.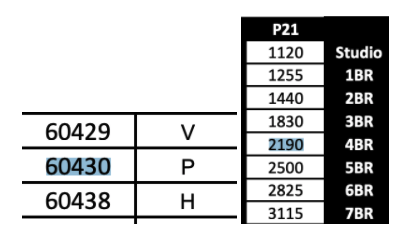 Landlords and Property Managers all account for utility allocation differently than described above, however, this approach has been one that has worked for us over the years.
Feel free to reach out anytime to discuss your current property or even a property you might be looking to purchase. We have experience and first hand investing knowledge in all areas and markets within the Chicagoland area.
You may also find these other great resources helpful:
Need More Info?
Should I Rent or Sell
ROI Calculator
Rental Analysis
Speak To A GCR&D Team Member