We're hiring an experienced property manager to join our team. This position has the potential to shift your career into overdrive, so if you're the kind of person who thrives in fast-paced environments and never wants to settle in their career, you might be just what we're looking for! Here's what we have to offer...
The benefits of working at GC Realty & Development, LLC
We offer a competitive salary, paid holidays and PTO days, benefits, training and development opportunities, and a great work environment. We know that when you're happy in your job, you perform better. And we want you to be happy at GC Realty & Development. We're committed to supporting our team members with all the tools they need so they can do their best work.
What we are looking for in a licensed property manager
GC Realty & Development, LLC. is looking for an experienced licensed property manager who will help us manage our expanding portfolio of residential buildings and single family units in the Chicago and suburbs area.
The successful applicant will be a proactive self-starter with a positive attitude, excellent communication skills, and a high level of attention to detail.
Successful candidates must have at least 2 years experience as a licensed property manager, strong Excel skills, and active Illinois Brokers License.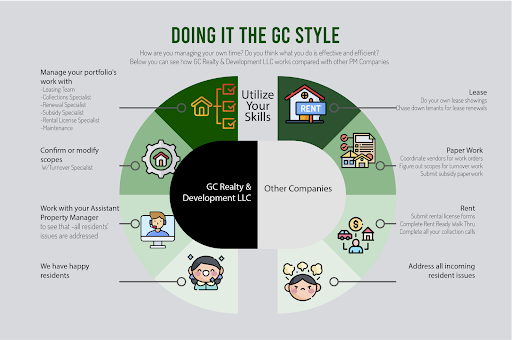 How to apply
If this sounds like the perfect career move for you, please submit your resume today!
Please note that our company encourages PTO (paid time off), and a generous holiday schedule. And unlike some companies, we offer benefits including: health insurance, dental, vision, life and disability insurance. If these are important to you as well, please apply!
See our available Turnkey Cash-Flow Rental Properties
Please give us a RATING & REVIEW (Thank you!)
Want extra Hacks & Tricks? Follow us on Facebook & Youtube!
Looking for a breakthrough in your career? Join Our Team!
SUBSCRIBE on to our podcast on iTunes | Spotify | Stitcher | TuneIn Radio
Need A Responsive Property Manager? We've got you covered!