At GC Realty & Development, LLC (GCR&D) our goal is to always return your security deposit or refrain from filing any claims against your surety bond. We have taken the time to provide our expectations of the home upon move out, and give you some quick tips on common security deposit chargebacks we see that you can help prevent.
How We Document the Move Out:
Upon move out, a GCR&D Technician will visit the property and go room by room documenting normal and excessive wear and tear. We will take this information and compare it to any move in reports we have or were completed by the resident. From this report, the property manager will determine if any damages beyond wear and tear exist that were not there at the time of your original move in.
Normal Wear and Tear:
Damage in Illinois, "Normal Wear and Tear" refers to deterioration of the property that happens when the property is used as it was meant to be used, but only when that deterioration occurs without negligence, carelessness, accidents, misuse, or abuse by the tenant or guests of the tenant.
Excessive Wear and Tear/ Damage:
This refers to the destruction that occurs because of abuse or negligence by the tenant during the tenancy. It diminishes the usefulness, value, or normal function of the rental unit. Some examples are pet damage (heavily stained or ripped carpet), broken tiles, holes in the wall, broken windows and missing fixtures.
Common Security Deposit Chargebacks:
The list below includes items that are commonly charged back to residents upon their move out but may be easily avoided / corrected.
Lightbulbs
Personal items left behind by tenant
Garbage cans not emptied
Missing garage door openers
Missing Mailbox keys
Loose towel bars or toilet paper holders
Loose bedroom or closet door handles
Loose kitchen cabinet handles or hinges
Overgrown lawn
Final water bill not paid
General cleaning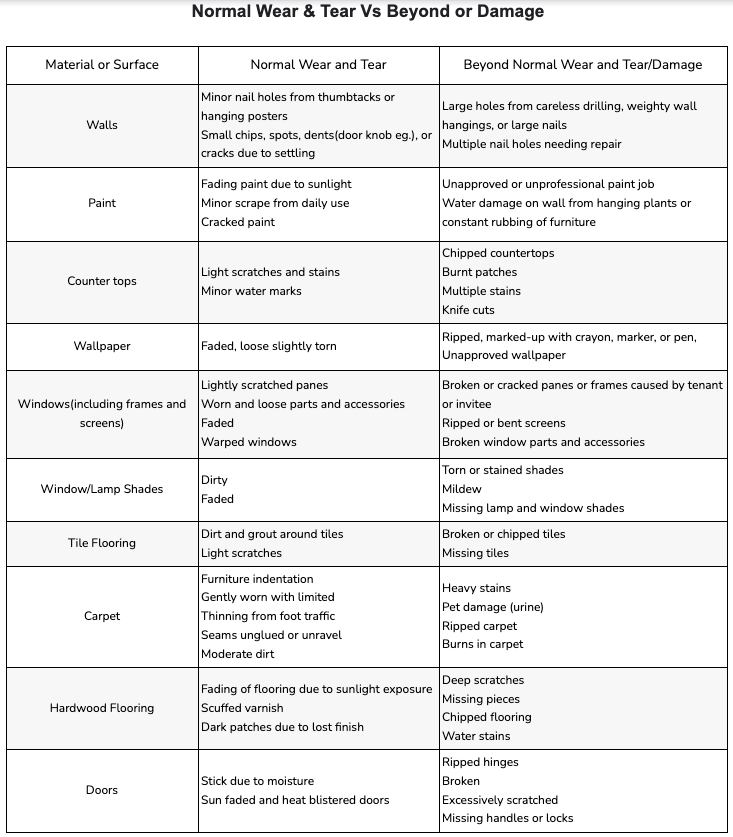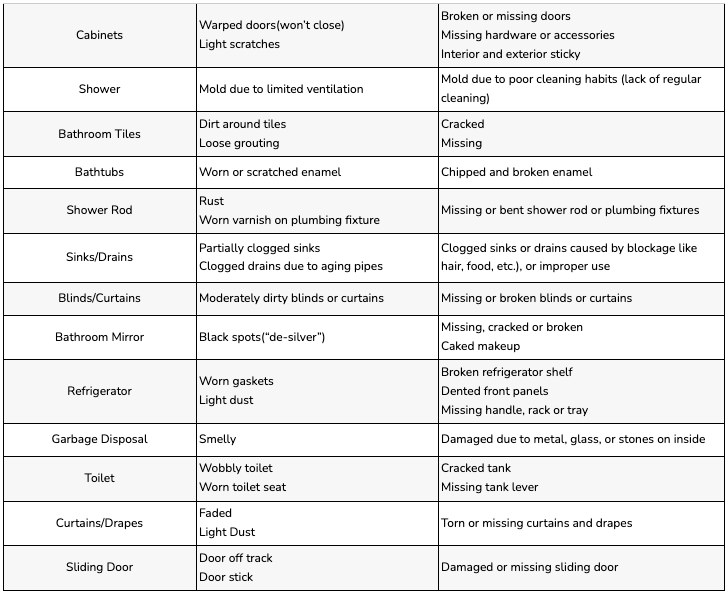 At the end of the day our desire is to take back the property the way we gave it to you with just normal wear and tear. Wear & tear does translate to the amount of years you have lived in the home too. Normal wear and tear will have a larger range of acceptable conditions the more years you stay with us, and we work with the property owners to be reasonable about that standard.
Resources Shared
Need More Info?
Should I Rent or Sell
ROI Calculator
Rental Analysis
Speak To A GCR&D Team Member