How was the Chicago Housing Authority born?
The CHA first introduced the voucher mobility program in the 1990s, following the completion of the original Gautreaux Assisted Housing Program, which was administered by a private fair housing agency, and since then has become one of the best tools for supporting low income families that have a desire to move in a chance to improve their life opportunities.
Gautreaux et al. v. Chicago Housing Authority (CHA) was the nation's first major public housing desegregation lawsuit. In 1969, a federal judge in Chicago issued a judgement order prohibiting CHA from constructing any new public housing in areas of the city that were predominantly African-American, unless CHA also built public housing elsewhere.
In 1976, the U.S. The Supreme Court ruled unanimously that the Housing and Urban Department could be required to use the entire Chicago metropolitan area to remedy its past discriminatory conduct in Chicago. Hence, this Supreme Court decision paved the way for the remedial program often associated with the case – the Gautreaux Assisted Housing Program – the nation's first major housing mobility program.
What is a Mobility Area?
A Mobility Area is defined as a Chicago community area with 20% or fewer of its families with income below the poverty level and a below median reported violent crime count (normalized by the community area's total population). Some community areas with improving poverty and violent crime rates along with significant job clusters are also designated as Mobility Areas. CHA uses this definition of Mobility Areas for implementing its Mobility Counseling Program, for approving exemption payment standards, and for providing landlord incentive payments.
What is the Housing Mobility Program?
The housing mobility program is a result of the combination between federal rent vouchers (aka Housing Choice Vouchers or HCVs), housing search counseling, and supportive services, with the purpose of helping families who choose to move to areas of increased opportunity, ofter with safer environments, improved schooling choices, better employment opportunities, and robust community resources.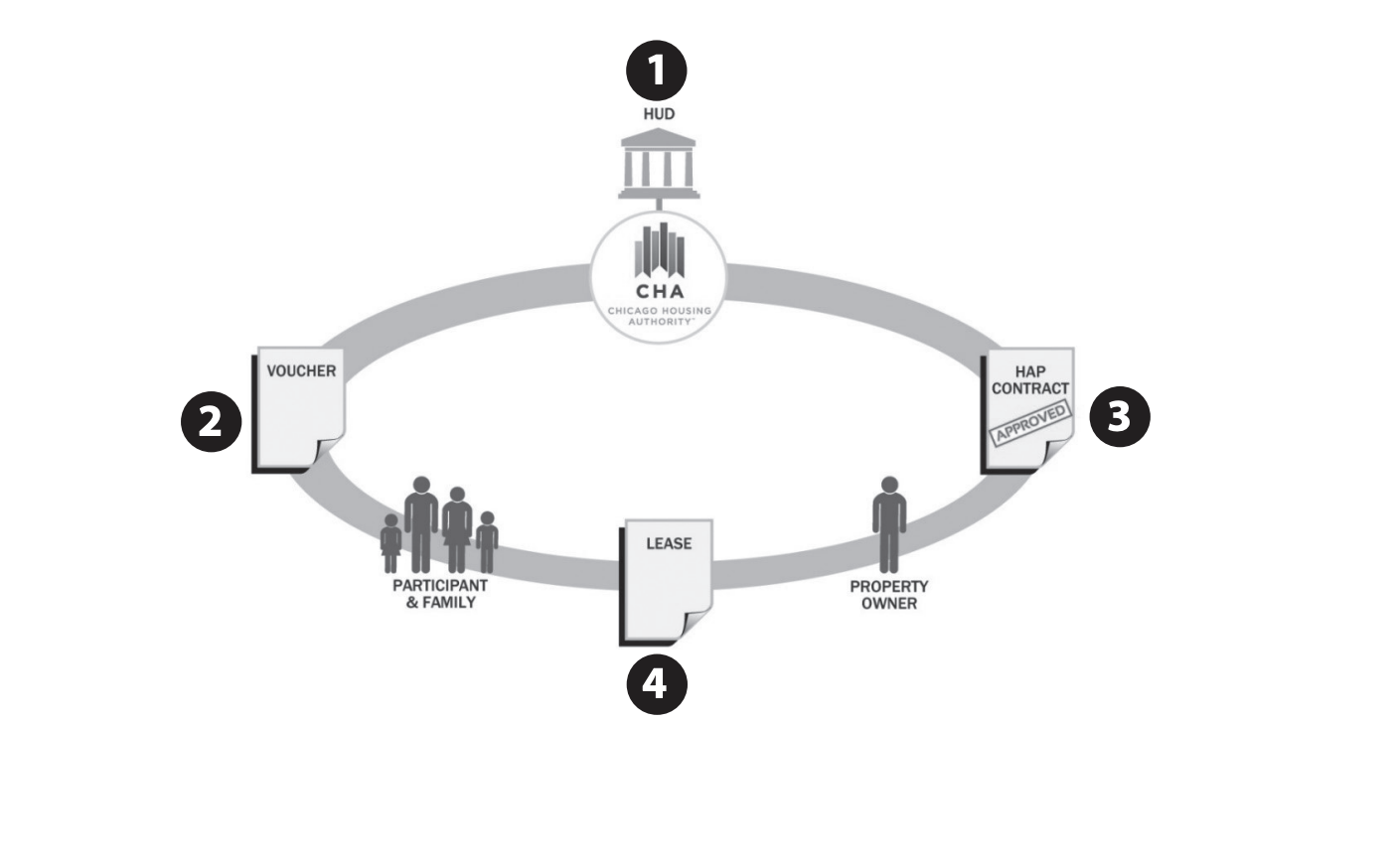 Roles and Responsibilities
Each HCV Program partner (HUD, CHA, property owner and participant) has different responsibilities:
U.S. Department of Housing and Urban Development:
Allocate HCV Program funds to CHA

Develop policy, regulations, handbooks, notices and other tools that implement and explain housing legislation

Contract with CHA to administer the HCV Program

Provide technical assistance and training to CHA concerning policies and regulations

Monitos CHA compliance with policies, regulations and administration through reviews and audits
Chicago Housing Authority (and its contractors)
Manage daily operations with fiscal integrity in accordance with federal rules and regulations.

Meet Established goals and objectives

Provide property owners, property managers, applicants, voucher holders and participants with prompt, professional service

Determine eligibility for applicants and participants,; conduct appropriate re-examinations for continued eligibility

Monitor property owners and participants to ensure compliance with HCV Program rules and regulations (HAP) Contracts and/or assistance to families for HCV Program rule violations

Explain all the rules and regulations to current and prospective property owners, property managers, applicants, voucher holders and participants

Terminate Housing Assistance Payment (HAP) Contracts and or assistance to families for HCV Program rule violations
Property Owners/Managers
Screen families for sustainability as tenants and lease the unit

Collect amounts due from participants under the lease including rent, security deposit, late fees and other charges

Comply with the terms of HAP Contract, lease and Tenancy Addendum

Be present at any inspections

Pay for owner-supplied utilities and services

Make timely repairs to keep property in good condition

Manage the lease, including evictions for lease violations

Comply with Fair Housing, landlord, and tenant laws

Stay informed of HCV Program updates
Program Participants
Find suitable housing unit

Comply with HCV Program rules and regulations, terms of lease and Tenancy Addendum with property owner

Allow CHA and property owner/manager to inspect the unit

Pay rent and any family-supplied utilities on time

Provide and maintain any appliances that the property owner does not supply

Report income and household composition for verification and certification of eligibility at examinations

Keep unit in good, safe, sanitary condition

Abide by all CHA Family Obligations
Ultimately, the goal of the program is to provide improved living conditions for participants while making their rent affordable. Through partnerships with property owners, such as yourself, the HCV Program offers a variety of housing opportunities for voucher holders, including single-family homes, condominiums, townhouses, and apartments.
Download your FREE copy of: What They Don't Tell You About Real Estate Investing
See our available Turnkey Cash-Flow Rental Properties
Please give us a RATING & REVIEW (Thank you!)
Want extra Hacks & Tricks? Follow us on Facebook & Youtube!
Looking for a breakthrough in your career? Join Our Team!
SUBSCRIBE on to our podcast on iTunes | Spotify | Stitcher | TuneIn Radio
Need A Responsive Property Manager? We've got you covered!